Folding Measuring System (FMEA)
Do you cut crown molding?
Have you been looking for a portable chop-saw stand that is light weight, strong, compact, easy to setup and use and provides integrated digital board measuring?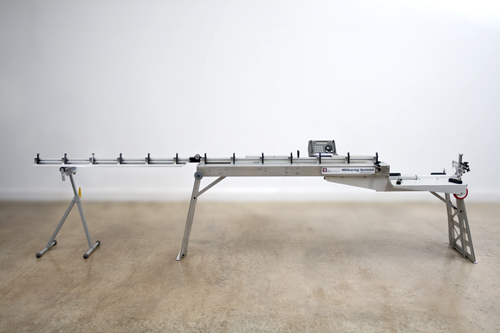 Then the Hain Company's Folding Measuring System (FMEA) is your answer. The FMEA folds into a compact portable like hand truck, fits easily through a doorway or into an elevator and is set-up and ready for use in seconds. Once ready the FMEA changes from one selected board cut length to another in seconds all while maintaining accuracy. It is available in 6 and 12 foot versions and can be easily configured to measure in Feet & Inches, Inches, Metric or Decimal. It is primarily intended for job site finish carpentry but works well for many other similar tasks. First time users are highly productive in minutes with very little training. The FMEA can utilize your existing chop-saw or any popular brand available on the market. It bolts up permanently in place onto a universal mount within minutes creating a precision random length cutting system that can instantly triple your production while enhancing the quality of the finish carpentry work you perform.
The FMEA User Interface is very simple and easy to use with a large character digital Liquid Crystal Display (LCD), numeric keypad, rotary dial, function buttons and LED indicators. Computer skills are not required to operate the FMEA. The User Interface is located to the left of the chop-saw within easy reach of its operating position which eliminates unnecessary and time consuming operator movements. The operator simply enters the whole Inch value (or Feet-Inches or Centimeters) into the keypad, sets the sixteenth fractions using the rotary dial (or Millimeters), then if needed used the function buttons to add or subtract a 1/32 Inch. The FMEA automatically controls and advances the measuring stops to the length entered by the operator and the LED lights indicating the cut is ready to be made. The operator slides the material down to the stop listed on the User Interface LCD and makes the cut with the chop-saw. The entire process takes only seconds providing a highly productive labor saving integrated system.
For non-portable applications the Hain Company offers the Table Mounted Measuring System (TMEA). The TMEA is a bench-mount version of the measuring system. It utilizes the same User interface and measuring stops as the FMEA but does not include the portability, fold-up and chop-saw mounting features thereby providing an economical measuring system for fixed saw installations. The TMEA is mounted onto your existing bench-top utilizing mounting holes and or brackets provided with the system for simple and fast installations. The TMEA is also available in 6, 12, 18 foot version.
Photo Gallery
Specifications
FMEA/TMEA Input Power Supply:
Voltage: 90-240 VAC
Frequency: 50-60 Hz
Current: 2.4 Amp

Unit Size: FMEA (12' model):
Folded for transport (maximum envelope): 24" wide x 19" tall x 93" long.
Set-up for Use (maximum envelope): 24" wide x 42" tall x 163" long.
Weight (excluding chop-saw): 85lbs.

Unit Size: TMEA (12' model):
Set-up for Use (maximum envelope): 15" wide x 11" tall x 139" long.
Weight (excluding chop-saw): 72lbs.

Video