The Koskovich Company
For more information about Koskovich products and information regarding used Koskovich equipment please contact us.
Click here for our contact info

Products
Auto-Omni
Robotic Component Saw
High-speed automated production of truss components.
Omni Mini-Miser
Automated Cut-Off and Marking Saw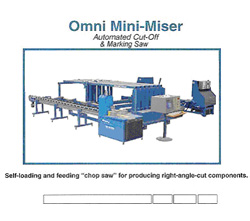 Self-loading and feeding 'chop saw' for producing right-angle-cut components.
Omni Jet-Set
Automated Truss Jigging System
Automatically profiles and fixtures truss components for assembly.